Receive our free e-book: The 7 Rules of New Meetings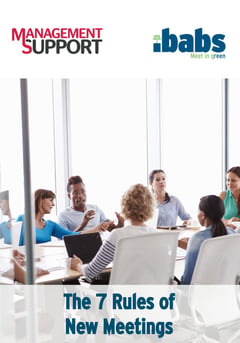 Many companies have already fully embraced Flexible Working.
If your organization wants to reduce the amount of valuable time and energy spent on meetings, then this e-book is perfect for you.
We provide a glimpse of the how, what and why of meetings.
Subsequently, we give tips and tricks to ease your organization's transition to New Meetings.
We'll also go into more specifics about the role you play as a member of the management support staff.
The e-book contains the following chapters:
Chapter 1: The Netherlands: tulips, cheese, windmills...and meetings!
Chapter 2: 3 categories of meeting
Chapter 3: Pet peeves
Chapter 4: Meeting participants come in all shapes and sizes
Chapter 5: The winds of change
Chapter 6: The 7 Rules of New Meetings